A Wavetek 907A – this apparatus generates microwaves from about 7 to 12.4 GHz. All the typical modulation capabilities are provided, FM, AM, pulse. Found it on xbay, USD 45. That's less than the value of the two precision bulkhead SMA to N connectors.
Quick look inside:
RF unit: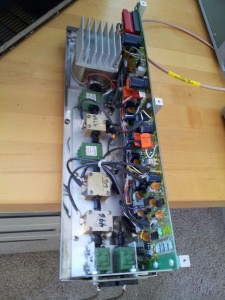 You can see the YIG oscillator on the top, followed by an isolator, leveler, isolator, two attenuators, isolator. There is a side chain, starting at the leveler, and with an additional isolator: this is a non-attenuated reference signal, which is available as an auxilliary output at the front panel – quite handy to use as as a signal for PLL stabilization, or other purposes.
Some items that need attention:
(1) Power LCD display doesn't work properly, not showing the power reading
(2) Attenuator works, but leveler doesn't seem to work (always at maximum, unleveled power)
(3) Only have a manual with partial, cut off schematics!
(4) Some TLC required, de-dusting – done.
(5) Two pushbuttons are missing, but switches work – more a cosmetic issue, will replace, once everything else has been fixed
(6) Some switches don't work properly – fixed with the help of DeoxIT D5.