A very common fault for the 8569B (and 8565A, 8569A) are defective front panel assemblies because of missing or broken contacts. One particular case is a broken input attenuator switch assembly contact, for the manual/variable attenuation level encoder. This variable attenuation adjustment actually uses a potentiometer (green part), and this mechanically coupled to a BCD encoder, formed by a few contacts and a gold-plated circuit board.
This repair is part of a re-assembly tasks – a gentleman out there had disassembled the switches, and I promised to help out with the re-assembly. But as often, things are a bit more difficult than they first appear, and it turned out not to be only an assembly job, but a repair job.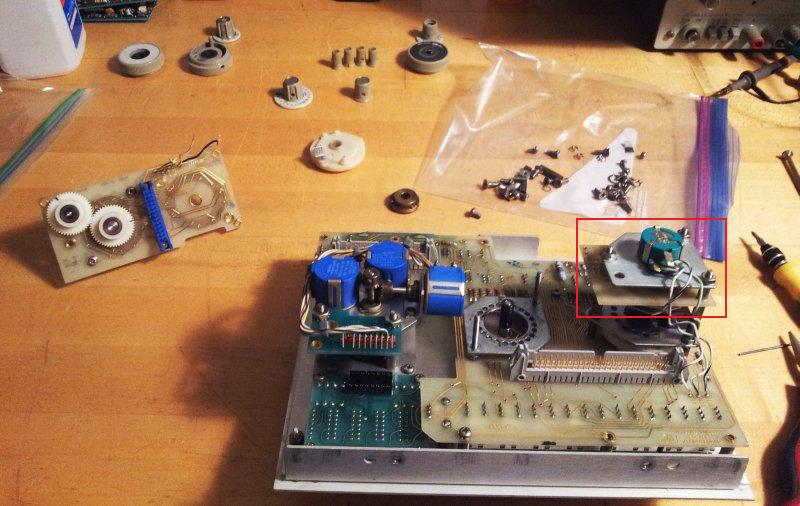 One of the contact fingers is clearly not making any contact to the circuit board.
To fix, just support the contacts with a piece of circuit board, or other plastic or metal sheet of adequate thickness.
Then, using 2-component epoxy glue, apply a good amount along the section holding down the contacts. with some contacts still properly mounted, this will hold down the others, for a lasting repair. Sure, you can also use a small amount of JB Weld or similar compound, but I would always advise to apply it evenly over all contacts rather than just trying to fix an individual contact – this will provide added strength.
Make sure to properly cure the epoxy before putting things together again. I usually let is sit for close to the heater for a few days.