One of my computers, a trusty IBM Thinkcentre Desktop, decided to fail on me. Symptoms – sometime it starts up normal, sometimes it doesn't. Already hangs at the boot screen. Smells like a hardware issue, and in fact, it is a hardware issue – with some electrolytic caps (note the brown substance leaking out from the top vents; fortunately enough, no damage to the board).
Electrolytic cap failure are a very common feature of modern consumer electronics, the remarkable thing here: only some of the caps failed – 1500 µF, 10 V, and 1000 µF, 10 V. Maybe these see particular load, or they are from a batch that wasn't all that good. All were high quality Nichicon brand, 105°C, HM series, specially designed for PC motherboards, low impendace, etc.
Board with new caps installed…
All caps were replaced by 1000 µF, 25 V – these were the only caps I had available with the given footprint and capacity range; 100 n X7R multi-layer caps were added (solder side), hopefully, to prolong the lifespan of the electrolytic caps.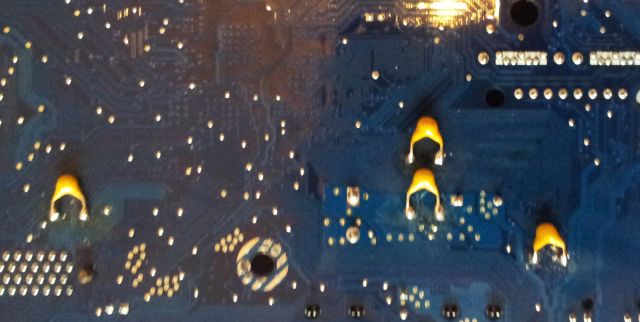 These are the culprits… a last look before they go into the bin. Board is working good as new. Let's see how long the repair will last.