One of the best sources of microwave signals still are YIG oscillators/YTO. These do require a good amount of power, magnetic coils, etc, but provide stable and rather low noise output, and good modulation capability. Core element is a small YIG sphere, placed in a magnetic field.
However, for the current unit under investigation (from a 18-26 GHz frontend), type S081-0321, 8.0-13.4 GHz, all the magnetic field and effort is wasted – no output detectable at all, not even a faint signal (checked with various equipment). Knocking it with a (small!) hammer, no effect. Varying the coil current – no effect.
Current consumption on the 15 V rail is normal.
Well, with all the basics checked, what to do with such hermetically sealed unit, other than using it to satisfy my curiosity about its internals. Hope to trace the defect to some specific part.
But before we consider more destructive measures, let's try to re-tune the YIG by slightly adjusting the YIG sphere. This is possibly throught the side opening, which is usually welded shut, but can be drilled up rather easily.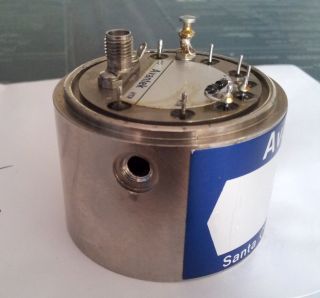 Still no luck, no signal, even after turning the YIG quite a bit.
To look inside, carefully removed the top weld seam on a lathe, and the you can pry the case open.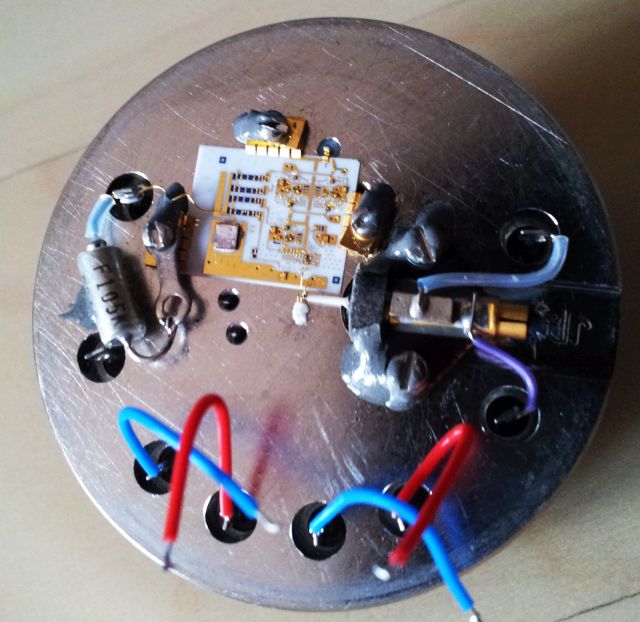 What you can see is pretty straightforward, despite all the gold wires. There is an input voltage regulator, from +15 V rail, down to 8 volts (measured about 8.15 V), this is then distributed to the 4 active parts via resistors (the bluish elements). Voltage at the resistors is about 4.3 V, so all stages seem to be adequately powered and current flowing as usual. Still no signal. Also probed other parts of the circuit, with a thin wire, under the microscope. No obvious defect. The gold wires and contact point reveal a good amount of adjustment done by placing/removing bond wires as need to adjust bias currents, probably also frequency response, etc.
The coil – rather, the coils. The thick wire is the main tuning coil, which accepts 0.4~0.6 Amps, the small coil around the magnetic center pole is the FM modulation coil. This is for much lower currently but high bandwidth modulation. All is sealed and soaked with epoxy resin. Note the hand made labels which may explain the cost of these units if purchased new… looks like US style handwriting to me.
Well, seems that fixing this is beyond what I can do here with the tools at hand. So will need to look for a spare/used 8-13.4 GHz YIG/YTO somewhere.