A heavy beauty, a Marantz Amplifier, PM-14. Certainly worth a detail look – according to the owner, the left channel is not working, and some smoke escaped along with burned smell.
No wonder – the two main transistors of the left channel are blown, say, exploded. And, upon further inspection, also the traces leading to the transistors, at least some of the traces – evaporated.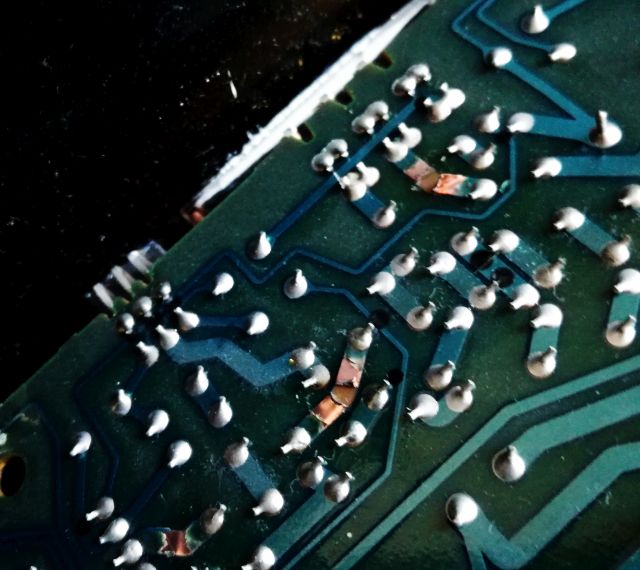 This is the full view of the left channel amp (right channel is quite similar, but mirror image – some components placed at slightly different positions.
Some burnt resistors replaced…
The board is double sided, but not through-plated, and the quality, well, is not all that good – needs to be soldered with care, otherwise the traces will lift.
After some further checks, fitted a new set of transistors (ISC brand, China – still better than some fake "Sanken" transistors), but to the biggest disappointment, when switching on, these exploded in a loud BANG when adjusting the idle current. Well, turns out that also one of the earlier stages had a short transistor 2SA1145. More testing revealed another defect, a dead Zener (exchanged both Zener, to make sure that there are no issues with temperature drifts etc.).
With all these things fixed, time for a test, using a HP 8903A, and a scope. The HP 8903A is really handy, if your are into any quality audio repairs.
The test setup –
Distortion measured at several frequencies, and several volts RMS at the output (using a 5.6 Ohm dummy load – just because I didn't want to take out the 4 Ohm precision load for these power levels). -80 dB total harmonic distortion+noise, not bad.
The front view – it has the classic Marantz indicator, for best sound, wait until it has warmed up.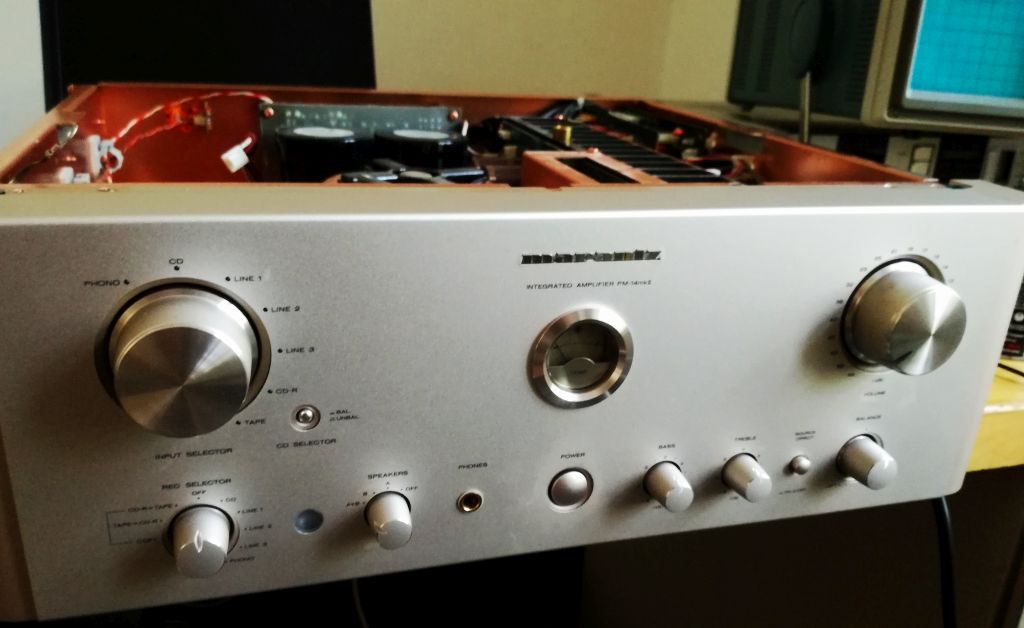 As a reference, just in case you need it, the service manual Marantz PM-14 Service Manual. Or, just send me a message, or the come along with your dead amplifier.