Still working on the 8662A, a unit that is in very good shape but someone tampered with the power supply in a non-expert attempt to fix it.
After a little bit of waiting, CMOS ICs worth a few dollars arrived, and a single 4049 CMOS fixed the power supply. Probably, the defective caps on the power converter board destroyed one of the transistors, and then lead to a voltage spike that destroyed the CMOS (which has a connection to the sense line) – only that gate got destroyed, the other gates still work.
There was no need for any adjustments, the voltages are still accurate to the resolution of the meters I have around here.
Back up and running, the machine is working fine and giving good output. At least after installing a coax line to bridge the missing attenuator.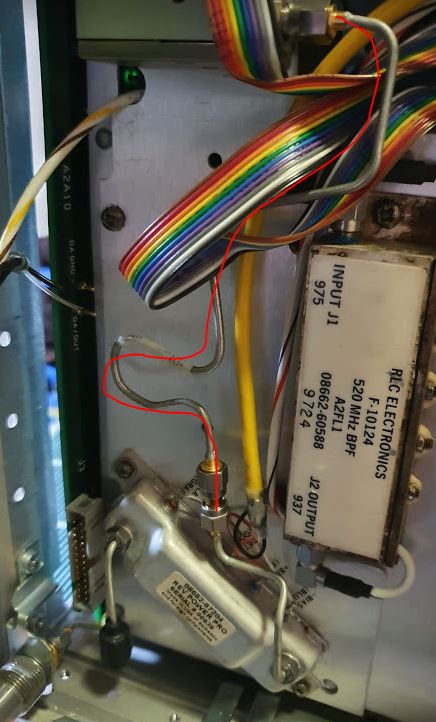 There are some small issues that were easily fixed. A few non reactive keys that were traced to a bad contact of the connector related to one of the lines of the key matrix.
… and some issues of the modulation display. It is stuck at "20", but the 1st digit (+-1) is working. Turned out to be a defective trace of the multilayer motherboard. Maybe someone damaged it by pulling on the ribbon cable, or similar bad handling – it is one of the outermost pins.
Easily fixed with a wire and some silicon glue.
Some study on the attenuator – to my great surprise, the 8662A uses a retrofit set, to replace the obsolete attenuator at the time of construction of this very late production unit. And, it does not(!) use the attenuators of the 8663A. These don't fit, neither in values nor in size, because there is an interference of one of the SMA connectors with the bandpass filter that is also mounted to the inner front plate. The missing attenuator, a 33321-60026 is a 85 dB unit, one segment 5 dB, two segments 40 dB each – these are switched simultaneously. A really special part, and difficult to assemble even if you have several other step attenuators because of the length of the 40 dB chip…
I don't actually need to attenuator that much, but luckily found this set on ebay from a seller in Israel. The kind guy offered it for a very reasonable price, great! So we can restore the unit to full function.
Meanwhile, the attenuator set has arrived in Germany, where I will pick it up during the next business trip – coming up soon. In any case, I will also need to pick up numerous screws, because the unit arrived with several screws missing, even some quite essential ones.
Anyway, there are plenty of HP screws around.