Some of the ceilings in my house have LED lights installed in false ceilings, a total of 45 led lamps of the same kind (GU10, 4 Watt reflector LEDs). These are of regular quality, sourced from Bauhaus, a normally trustworthy outlet. But certainly these LED lights cannot be trusted at all. Of the 45 pieces installed, already 4 failed in the first year – occasional use. And another one just failed recently.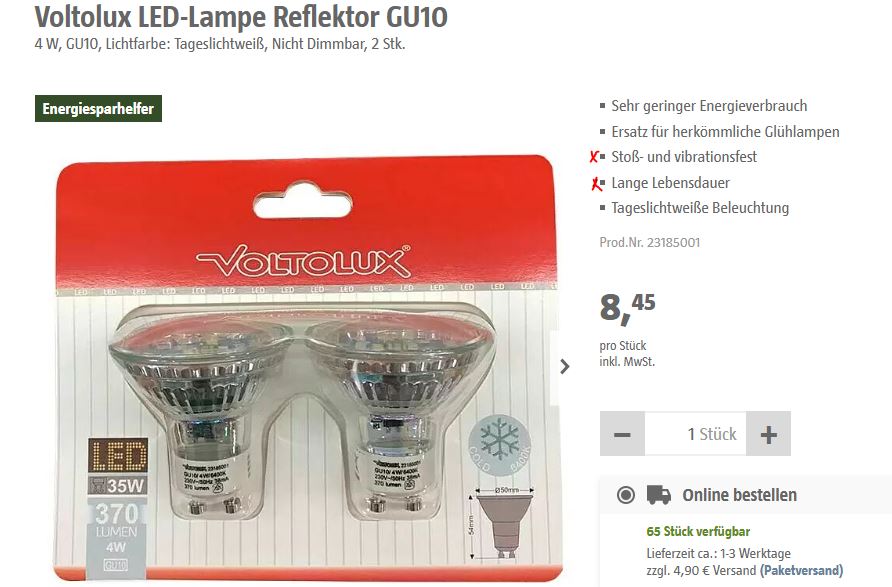 The advantages claimed are various, long lifetime, rugged, etc., but Bauhaus doesn't say that you need to buy 10% more lamps than you need, just to replace the early failing lights. Not even to mention about the effort or replacement, etc.
All of the LEDs are 25360318 with frosted front, 10 LED chips per piece. The failure mode is normally intermittent, so the LED will come on for a little, then go off, it may also come on after a little while, unpredictable.
As it turns out, these LEDs are actually repairable, but removing the front glass disc (frosted diffusor), which is done by heating it for a little while with hot air at about 200°C. The front disc seems to have fixed with some epoxy glue.
Poking around, it becomes clear that the failure more is a broken interface between one of the LED chips, and the aluminum heat-conducting round board they have been soldered to. So, either the design has some flaw, or there are thermal issues or solder/flux issues when manufacturing. Shock or vibration effects can be excluded, because these lights have ever since the renovation been mounted in the ceiling, with no touch or vibration.
To fix it, I just re-flowed the solder, after applying a little flux, and the issue went away. Now you can close the light again, using epoxy glue, and it may provide some further service. No statistics yet on the lifetime of repaired LEDs.
In any case, buyer beware of any of the praised LED lamps, many may fail on you well before their expected lifetime ends, better keep all receipts, so that you can have them replaced by the Bauhaus hardware store, or wherever you prefer to buy your lighting supplies.