The HPAK 8904A – you will find the detailled specs elsewhere on the web, it is a one-of-its-kind instrument, an early type of arbitrary waveform generator, capable of frequencies up to 600 kHz, but its mainstay is the audio region.
Why is it so unique, well, it has a complex (some say, difficult to use, but are there any easier ways?) user interface that let's you program all kinds of test signals without any time lost for generating complex waveform bit by bit, uploading it to a modern arbitrary generator, and so on. The HPAK 8904A support all the common modulation features, AM, FM, Phase, and additionally, DSBSC (double sideband supressed carrier) and Pulse modulation. It can gernerate FM stereo test signals, various other types of composite signals, DTMF tones, just to name a few. In fact, HPAK has published a catalog, with some of the common waveform (will try some of them later).
Most importantly, your plain 8904A might not be able to do all these things, because all the nice and special functionality is only available with option 001, which is, believe it or not, a software option (to my best knowledge, one of the earliest occurrences of a really powerful software option feature for HPAK equipment).
The unit I'm using came with option 002, two channels, but not with option 001 – well, it's software only, all you need is a serial and key, and some intructions – which I will be happy to provide to you, when needed.
But before we start: the unit discussed here came from an undisclosed source, and failed power on test (no noise or other signs of functionality). Once opened up, big surprise, HPAK was using a Computer Products switchmode supply, 90 Watts, Model XL51-5601. Fair enough, this is a quality supply, but somethings must have gone wrong – no power.
Troubleshooting a switchmode supply, with my somewhat limited workshop here in the US – well, it's worth a try. No schematic, so hoping that it failed because of one of the more obvious defect modes. And, fair enough, here are the cuprits: FES8DT Schottky diodes, the secondary rectifiers – 2 of 3 were dead.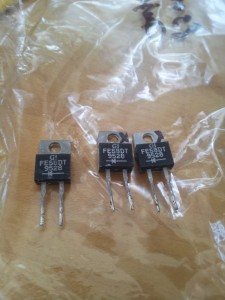 The FES8DT are 200 V, 8 A, 85 pF, 0.95 V drop devices. 35 ns recovery time. 125 A surge current. Seems they don't fully hold up to the requirements.