These are one of my favorite Christmas "Plätzchen"(=small cookies). A kind of nougat shortbread, covered with chocolate.
First, prepare a dough by thoroughy mixing/kneading (no machine needed, best use your hands):

250 g nougat (soften in microwave)
80 g butter (soft)
60 g sugar
300 g plain flour, German Type 405
1/2 teespoon baking poweder (throughly mix with flour)
a little bit of salt
1 egg
some vanillin powder (or vanilla essence)
Once properly mixed, make two rolls, and wrap in some plastic foil:

Let rest for several hours in the fridge, or overnight.
Then, form nice cookies, either manually, or by rolling it to about 3/16″-1/4″ thickness. Don't roll too thin!
Bake in oven at medium temperature. For best result, use 165°C circulating air. Baking time is 10-12 minutes.
Let the cookies cool to room temperature. Eventually, your efforts will result in a pile of cookies ready to be chocolate-coated.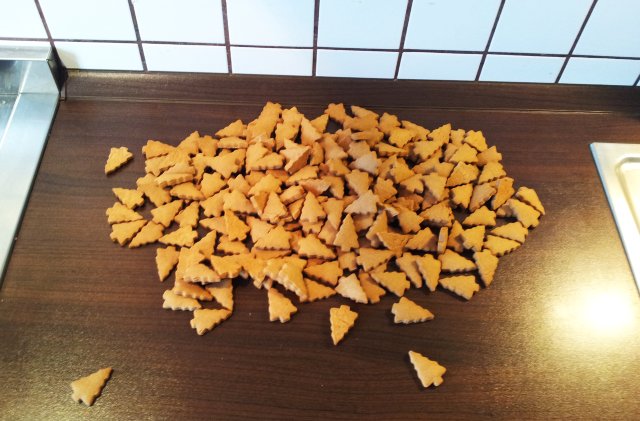 Then, melt
200 g baking chocolate
150 g of really dark chocolate

using a water bath (also to keep the chocolate warm during the coating process).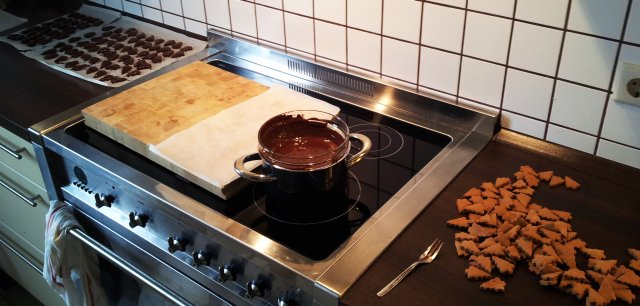 For guests that are worried about too much chocolate, it always is a good idea to leave some of the cookies partially covered.

Use non-stick paper, and let the cholocate solidify for at least 18 hours before packaging.
Store in odor-free, dry place. For best taste, let them rest for at least a few days.