Winter time, is workshop time, spending several hours in the workshop every week, either in the ground floor workshop, or basement rooms – and on several instances, missed the postman! Especially on Saturday, when nobody else is at home, an I am waiting for some spare parts!
The simple reason, the door bell only rings in the office/apartment on the 3rd floor, but I can't hear it in any of the workshops. This needs to be solved – but how? Running a wire through several floors is no option.
Browsing through online offers, I found some low-cost wireless doorbells (120 meters range!! probably, Chinese meters but fair enough) and came up with this scheme – the 3rd floor apartment door bell, which is integrated into a Siedle-brand HT411 door phone will trigger the transmitter of the wireless door bell, which in turn will give its sound in the workshop are.
This is the xbay offer – one transmitter, and two receivers.
That's the HT411 with the transmitter mounted.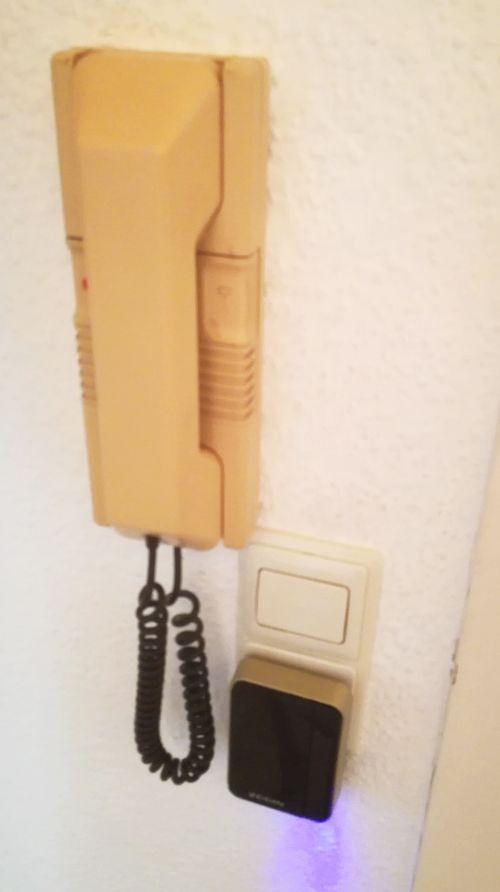 The door bell uses a transformer-less powder supply… let's hope it will last.
Finally, the simple schematic using the "ring" signal of the HT411, which is 12 VAC to activate the door bell transmitter (with the button shorted, it will activate the received whenever power is applied!).
All is working loud and clear now, you push the main door button, then the HT411 will ring in the apartment 3rd floor, this in turn will active the wireless transmitter, and both receivers will sound in the 1st and basement workshop. Easy enough!