My good old office chair has seen better days, with permanent use sind 1991, during all my study and overseas activities. At least, it is not a cheap imported chair, but a good old German made and top quality office chair, purchased for about 300 Deutschmarks in 1991. A very generous gift of my parents, who took care of my back even at those early days.
But now, all the fabric is work, and even holes showing up, and threads loose.
Sure, there are many professional repair shops that can do a full overhaul of such chairs, but what about the do-it-yourself spirit? So I decided to fix it myself, using simple tools, like, a nail gun (see below), a razorblade, some fabric (corduroy, available from a local shop at low cost), and a fleece (non-woven, anti-slip impregnated) fabric (about 100 g/m2 weight).
This is the nail gun I use, a Ferm ATM1042. It's quite sturdy, and a great deal for the price!
The nails used are 5.8×13 mm, quite easy to worth with, using an air-pressure operated gun.
The fleece serves an important purpose, it covers the old fabric (nothing removed from the chair), and gives it some new firm touch. And, because of its anti-friction properties, it will not slip between the old and new fabric. And, it is available locally, at low cost. I used a single layer for the back rest, and two layers for the seat, cut to size.
Here you can see progress on the back-rest. Make sure the fabric is aligned property, then first fix two opposite sides with the needle gun. Then, continue with the perpendicular sides, then diagonally, and so on. Always apply an even "pull" to make sure the fabric looks nicely stretched around the corners. Avoid any wrinkles by pulling the fabric straight, and by applying more nails from the gun. After all, don't safe on nails!
For the seating surface – the same procedure.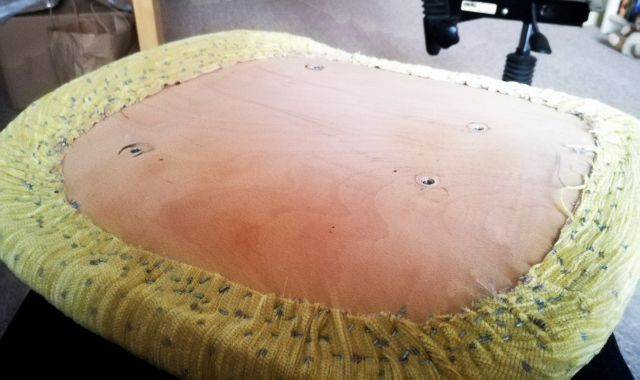 Voila, all done, and ready for at least 10 more years of service!