Having seen quite a few of the 8569A, 8569B, and 8565A analyzers in the shop recently, once common issue are the controls. The 3-knob operation is one of the features that makes these long-established machines still desirable for today's work, in particular, for general test and troubleshooting in the microwave region, up to 22 GHz, and above. At the same time, these knobs were made of plastic, and they age – most of they show cracks, which will sooner or later require difficult repair. In the current case, I am dealing with the unit described earlier, it is a 8569B, and someone had fit a 8565A control pad – all of the knobs more or less cracked and useless – I might use their remains to fix upcoming instruments.
So, what do to? Well, decided to go for a rigorous approach, and provide completely new knobs. These use a coaxial design, with 1/4″ outer shaft, and 1/8″ inner shaft. For the small controls, just ordered a few Augat/Alco knobs, which are quite sturdy and easy to mount.
The large knobs, I custom machined back home in the main workshop, using my little CNC lathe (kind of an overkill) – they are made from POM/Delrin plastic, with some brass inserts, and 4-40 set screws. The knobs are knurled at the outside – one turned out a bit black, because I didn't clean the tool properly… fair enough.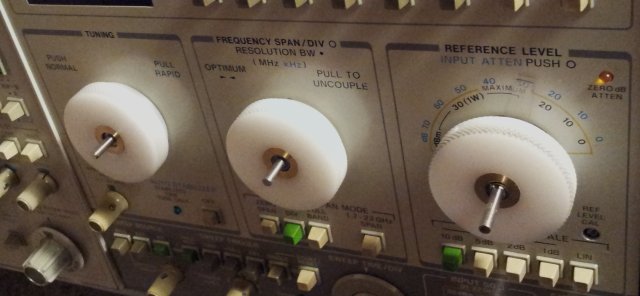 The only downside – there are no markings on the knobs, like for the originals, but such markings aren't really needed for the 8569B which has a full on-screen display of all settings. Also the 'lock' positions for coupled BW-Span still works!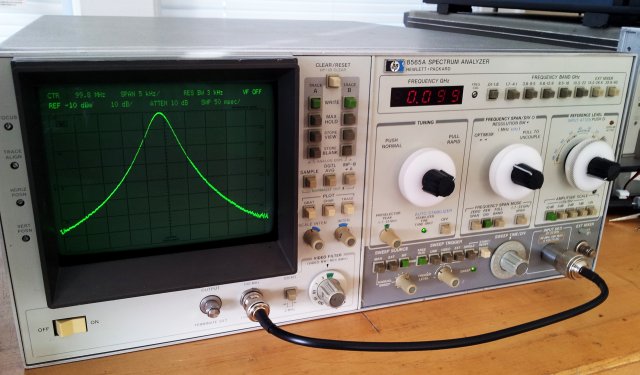 All in all, I'm pretty happy with this repair, estimated useful life of the new knobs – 30 years, and replacements can be made, as we go. But maybe, by then, the unit might be really obsolete, although that's the thing I am least sure about!